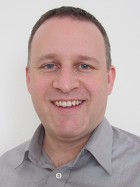 Name: Jeremias Manuel Märki
Nationality: Swiss
Languages: German, English, French
At the age of 10, I started programming and it became a favourite hobby of mine. After middle-school, I started working as a software developer in 1996. Soon, I developed a special affection to document production because it turns abstract data into something tangible, a piece of paper, an envelope. Of course nowadays, electronic documents become more and more important, but a printed document will always be something special. Since starting my own business in 2005, I've had the pleasure of working with many different clients, mostly software-developing companies in the output management business. In my free time, I enjoy sailing on my little catamaran and reading science fiction books.
Education
Eidg. Fachausweis als Informatiker (Fachrichtung Wirtschaftsinformatik) and Fachausweis Wirtschaftsinformatik AKAD, 1999
Middle-school, Type B (Latin), Kantonsschule Beromünster
Professional Memberships
Past Talks
Title
Occasion
Materials
HTML5 – A New Format for Interactive Documents in Output Management?
Comparting 2012, house conference of Compart AG, September 2012, Böblingen DE
Session slides in
English and
German
Document Production with <XML/>
Comparting 2011, house conference of Compart AG, November 2011, Böblingen DE
Session slides in
English and
German
XML: A Technology penetrates the Entire IT
Comparting 2010, house conference of Compart AG, September 2010, Böblingen DE
Session slides in
English and
German
Automatisierte Dokumentenproduktion mit Apache FOP
OpenExpo 2008, March 2008, Bern CH
Session slides (in German)
Getting started with Apache FOP
ApacheCon, June 2006, Dublin IE
Session slides
Apache FOP: Project status and Roadmap
/ch/open, Open Business Lunch, November 2005, Bern CH
Session slides (in German)
Apache FOP: Optimizing speed and memory consumption
ApacheCon, July 2005, Stuttgart DE
Session slides
SVG and PDF with Apache Batik and Apache FOP
Seybold, April 2004, Amsterdam NL
Session slides